PayPal casino deposit and withdrawal guide
If you regularly purchase goods and services online, then you'll most likely have heard of PayPal. PayPal is one of the widely used e-wallet payment methods on the internet, supported by thousands of service providers and retailers on the web. All you need to open a PayPal account is an email address and a credit card or bank account. Once set up, you can use it to make payments and withdrawals at very competitive rates.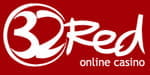 PayPal is supported by 32 Red Casino and selected other leading casinos.
PayPal offers customers the following advantages:
The ability to perform transactions without communicating bank account or credit card details.
Ease of registration – opening an account takes mere moments.
Very competitive rates.
Also accepted at thousands of non-gambling websites and service providers.
No need to top up your account with funds – if you have a stored payment method, this can be used directly.
Excellent purchase protection.
Afree PayPal app for cell phones.
PayPal online casino limitations
Although PayPal is widely used in other markets, very few online gambling operators support PayPal. Big names, such as 32 Red Casino do support PayPal, but very few other online casinos do. And even when PayPal is supported, it is often not available in many countries, including the USA and many European countries.
This is an important factor that any online gambling fan should be aware of. We therefore recommend that anyone who is considering using PayPal as a payment method first investigates whether it is available at their favorite online casinos. Should it not be, it is wise to consider using one of the many other payment methods.
How does PayPal work?
Due to the restrictions mentioned above, it is wise to check first whether PayPal is supported by the casino you wish to use, in the country you're resident in. if it is, the process is as per follows:
The following diagram displays how you can use PayPal to deposit funds in your casino account and make online purchases:

Operating costs
One advantage of PayPal's size is that its operating costs are generally low. The amounts below apply to most major countries, however, as PayPal's fee structures can vary from one country to the next, we recommend consulting the fees section on the PayPal website.
Depositing funds in your PayPal e-wallet/making purchases via PayPal
| Method | Fee | Funds available |
| --- | --- | --- |
| Credit/debit card (direct purchases only) | Free | Instantly |
| Funding account via credit card | Free | Depends on bank |
| Funding account via bank balance | Free | Instantly |
Withdrawing funds from your PayPal account
| Method | Fee | Funds deposited |
| --- | --- | --- |
| Domestic bank account | Free in most countries | Varies |
| Foreign bank account | Conversion and transfer rates may apply | Varies |

Sending funds to others using PayPal
| Method | Fee | Transfer initiated |
| --- | --- | --- |
| Account balance | Free | Immediately |
| Linked bank account | Free | Varies according to type |
| Credit/debit card | 3.4%, plus a nation-specific handling fee | Varies |
PayPal may also impose other costs, including:
Retail-level currency conversion rates, in the event of international payments.
Return fees in the event of a funds withdrawal failing (e.g. due to incorrect details). These vary from country to country.
Opening a PayPal account is quick, easy and free to do. All that is required to set up a basic account is an email address and a credit card or bank account. You don't even need to add funds to your account to use it.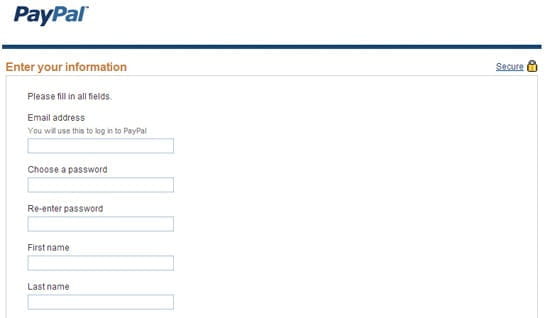 To set up an account:
Visit PayPal.com.
Click the 'sign up' link.
Click the 'get started' button in the 'PayPal for you' box.
Fill out the information form, and click the 'agree and create account' button.
Enter the CAPTCHA code when promoted and click 'Continue'.
When prompted, enter your credit card information and click 'continue' to link a credit card to your account; or
Click the 'go to my account' link to skip this stage.
Once you've set up your account, you will need to verify your email address:
Open you email account.
Check for the PayPal email confirming your account's creation.
Click the 'link now' button.
Your Browser will open. Enter your PayPal password.
In case you haven't done so already, select your two security questions and nationality.
Click the 'submit' button.
Please note that PayPal accounts are automatically set up with restrictions on the amounts you can spend using them, and withdraw through them.
PayPal offers two methods of funding: credit card and bank account, both of which work in different ways.
Credit Cards
It's important to note that although you can link a credit or debit card to your PayPal account, you can't use it to add funds to your account itself. Rather, when you pay using PayPal in this way, PayPal simply processes the card payment on behalf of the merchant when the transaction is made.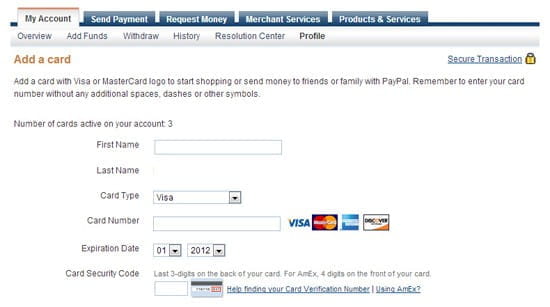 The first step is to link your credit card:
Log into your PayPal account.
Click the 'profile' link.
Select add/edit credit card.
Click the 'add a card button'.
Select your card type, enter the card details, and select your billing address.
Click the 'add card' button.
To use PayPal to pay for something using your credit card, simply select the card when using PayPal as a payment method at the retailer.
Bank accounts
Unlike credit and debit cards, bank accounts can be used to deposit funds straight into your PayPal account. However, it should be noted that PayPal doesn't make this service available in all countries.
Bank accounts need to be linked to your account. You can then choose to initiate a manual transfer yourself, or set up a direct debit, enabling PayPal to take the funds directly from your account.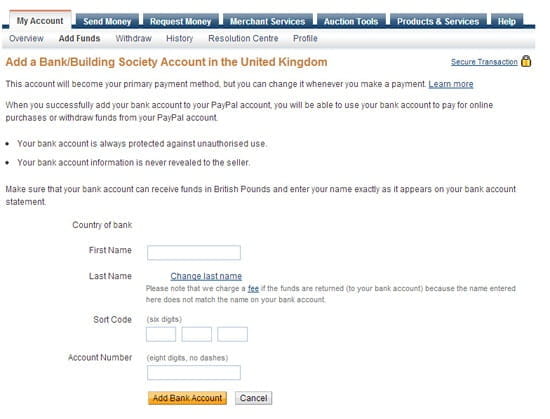 To do this:
Log into your PayPal account.
Click the 'add funds' link.
If you haven't linked a bank account already, select the method of transfer (you move it or PayPal moves it) of your choosing by selecting the corresponding 'continue' button.
Follow the on-screen instructions to initiate the process.
Although it's only offered in selected countries, online casinos such as 32 Red Casino offer their customers the option to make deposits and withdrawals using PayPal.

To make a deposit using PayPal:
Visit the 32 Red Casino website, download and install the software and sign up for an account.
Open the software and log in.
Click on the 'bank' button.
Click the 'deposit' tab.
Select PayPal from the list of payment methods, and click the 'deposit' button.
Select the amount you wish to deposit and click the 'next' button.
When prompted, click the 'confirm' button.
A PayPal page will open in a new browser window. Log into your PayPal account and follow the on-screen instructions (these will differ according to payment type).
Once the transaction has been completed, the funds will appear on your 32 Red account shortly afterwards.
Withdrawing funds functions in much the same way as deposits. As long as you have sufficient funds in your account, and as long as PayPal is available in your country, you can withdraw them to your account.

To withdraw funds:
Open the 32 Red casino software and log in.
Click the 'bank' button.
Open the 'withdrawal' tab.
Enter the amount you wish to withdraw and click the 'next' button.
When prompted, select PayPal from the list of preferred methods of payment.
Select the PayPal Payer ID, tick the terms and conditions box and click next.
Verify your contact details when prompted, and click next.
You'll now receive confirmation that your withdrawal has been entered into the system.
The amount will be subtracted from your casino balance immediately, although it won't appear on your PayPal account immediately.
As withdrawals are not processed immediately, you have a time window in which you can cancel the withdrawal. As long as the amount hasn't been transferred to your PayPal account, you can cancel it and have it added straight back to your casino balance.
To do this:
Open the 32 Red Casino software and log in.
Select the 'Bank' option.
Select the 'reverse withdrawal' tab.
The amount available to reverse will be listed. Select 'reverse all' to reverse the whole amount, or 'other' to reverse a specific amount.
Click 'next', and then confirm that you wish to reverse. The amount will then be re-credited to your casino account.
Increasing your limits
Like many e-wallet providers, PayPal imposes strict transaction limits on new accounts. However, lifting these is a relatively simple process, requiring you to add and verify a payment method.
| Feature | No payment method | Unverified | Verified |
| --- | --- | --- | --- |
| Spending limit per year | $650 | $3,300 | None |
| Withdrawal limit per month | $250 | $250 | None |
| Withdrawal limit per year | $1,300 | $1,300 | None |
| Receiving limit per year | $3,300 | $3,300 | $3,000 |
To lift your restrictions:
Log into your account.
Ensure you have a valid credit card linked to your account.
Click the 'Get verified' link at the top.
Click the 'link and confirm my card' link next to the credit card you wish to verify.
Follow the on-screen instructions.
PayPal will now debit an amount from your card, with a four-digit reference number contained in the transaction description.
View your credit or debit card statement, locate the charge and make a note of the reference number.
Repeat steps 1 and 3, and enter the four-digit number when prompted.
PayPal on your mobile
PayPal also offers a mobile app for smart phones. With this app, you can check your balance, view your transaction history, and manage your funds. The app is available for iOS, Android and Windows Phone 7 and 8 devices.
Conclusion
As one of the world's most popular and trusted payment methods, it's only natural that using PayPal for gambling purposes will appeal to many online casino fans. Especially as many of them may well have accounts already.
Unfortunately, so limited is PayPal's support for online casinos that in the vast majority of cases, this won't be practical. As a result, it isn't going to be a serious alternative to the other popular payment methods used by online casinos, such as Skrill or Neteller.
Finally, here are some additional facts about PayPal:
Widely supported as a payment method in the retail and services sector.
Customer support available via telephone and email.
Subsidiary of eBay.
Operates in over 190 markets, and has more than 100 million active accounts.
Subject to Regulation E laws in the USA; regulated by Luxembourg's CSSF in the European Union.