Live roulette
Live roulette is a relative newcomer to the live casino scene, but a growing number of online casino operators now offer it and it is proving to be very successful. It brings together the excitement of playing in a land-based casino with the convenience of an online casino.
Where to play live roulette?
We recommend the following casinos for a great live roulette experience: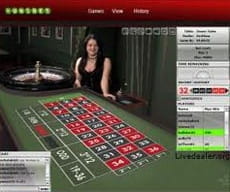 Dealers
One of the key advantages and attractions of live roulette over the traditional online casino roulette game are the presence of live croupiers at the table. They are, for the most part, attractive women who entice the players at their table to play on for longer, spending more time and money in the process.
Beyond the visual appeal, players can interact with the croupier, too.


Live roulette winning chances
Your chances of winning at live roulette are exactly the same as the chances of winning in a land-based casino, or a regular online casino.
Check out the payouts for European roulette
Check out the payouts for American roulette
Table limits
Live roulette table limits vary from one online casino to another. Limits on lower limit tables may range from $0.10 to $100. On high limit tables, this can extend from $50 to $5,000. Regular high rollers can play at VIP tables which range from $100 up to $20,000 on average, but can be more. Live roulette tables tend to offer higher limits than regular online roulette tables.
Why is live roulette so popular?
Despite the ever-growing number of players taking their place at such live casino games as live blackjack, live baccarat or live craps, by far the most popular live casino game in terms of the number of players is live roulette. Why?
Live roulette gives players the unique sensation of being in a land-based casino, despite playing at home
There are often higher limit tables available compared to traditional online casino roulette tables, which appeals to high rollers
It comes with a higher sense of security for players, as it involves a live dealer and a real roulette table rather than an animation
The chance to interact with a real person as dealer appeals greatly
Where is live roulette recorded?
With live roulette the player experiences all the action live, just like in a land-based casino. Live croupiers are filmed in real casinos, or studios decorated to look like land-based casinos to further enhance the player experience.
Can I play live roulette for free?
A few live casinos offer players the chance to test out live roulette with play money at first, but with most live casinos you must sign up and play for real money. There are tables that offer low limits so it is possible to play without breaking the bank.