CLICK2PAY casino deposit and withdrawal guide
Please note that the payment method CLICK2PAY doesn't exist anymore. Check out our payment methods page for other options.

CLICK2PAY is an e-wallet service that can be used for processing online deposits and, occasionally, withdrawals. Owned by German company Wafepay (which was launched in 2001), anyone with an email address and a credit card can sign up for a CLICK2PAY account. This can then be used to process deposits with most major casinos. However, it should be noted that few such casinos support it as a withdrawal method.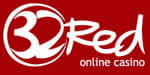 CLICK2PAY is supported by most leading online casinos, including 32 Red Casino
As a payment method, CLICK2PAY offers several key advantages:
Quick, secure deposits – funds are transferred immediately without your payment details being transmitted to the merchant.
Good account security, including unique payment code and credit card verification.
Available in most major territories and countries (except the USA). 
How does CLICK2PAY work?
Setting up and operating a CLICK2PAY account is both quick and simple:
The following diagram explains how you can use Neteller to make online purchases and casino deposits:

One of the downsides to using CLICK2PAY is that some of its costs are noticeably higher than those of rival e-wallets such as Skrill or Neteller. Likewise, some of its payment methods, especially when it comes to taking your money out, can be a little limited.
The operating costs are listed below:
Depositing funds in your CLICK2PAY account:
| Method | Fee | Funds available |
| --- | --- | --- |
| Credit card (direct purchases only) | 3% | Immediately |
| Wire transfer to German bank | Free | Three working days |
| Ukash (most European countries) | Free | Immediately |
| Giropay/Electronic transfer (selected countries only) | Free | Immediately |
Withdrawing funds from your CLICK2PAY account:
| Method | Fee | Funds deposited |
| --- | --- | --- |
| CLICK2PAY debit card | $/€10 per card | Instantly (from cash point) |
| Cheque | $/€20 | 3-5 working days |
| Electronic transfer | 2.9% | Three working days |

In the case of cheque withdrawals, where foreign currency exchanges are involved (such as from Euro to GBP), the amount received will be based on the interbank market rate minus a 2.5% conversion fee, in addition to any other costs incurred.
Opening a CLICK2PAY account isn't quite as easy as with some e-wallets, but is still relatively straight forward.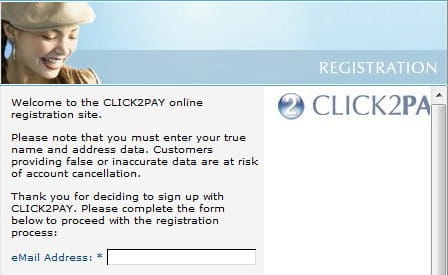 The steps are as per follows:
Visit www.click2pay.com.
Click the 'sign up now' image. 
Fill out the registration form, ensuring all details are accurate, and click the continue button.
You'll receive confirmation of the information you entered and notification that someone will be calling you shortly. Click the continue button. 
Next, enter your credit card details. An amount of $/€5 will be reserved on (but not charged to) your card to ensure it is valid.
A screen will appear, confirming your account has been set up and what your PAN (Personal Account Number) is. Note this number down.
Within a few minutes, you will receive a call on your phone from CLICK2PAY, asking you to verify two bits of information.
Once you have done this, the registration process is complete.
NOTE: although your account is now set up, your transactions will be severely limited until ownership of your credit card has been verified. To verify your card, please read on.
Funding your CLICK2PAY e-wallet is easy and, depending on the payment method used, quick. For an overview of the costs and processing times, please refer to the table in the operating costs section of this guide.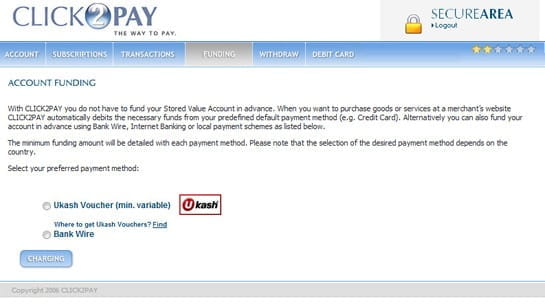 To add funds to your account: 
Visit www.click2pay.com.
Click the 'sign in' link and enter your account information.
Click the 'funding' link. 
Select the payment method you wish to use, and click the 'charging' button.
If you selected Ukash, enter the voucher number and the amount and click the 'load now' button.
If you selected bank wire, download the form and follow the instructions.
In the case of credit and debit cards, it's not possible to fund your account directly with these. Rather, when you choose to make a deposit at an online casino, CLICK2PAY will charge the amount straight from your card and transfer it to the casino.
CLICK2PAY is one of the most widely supported payment methods among online casinos. As such, you can use it to make deposits with most leading online casinos, including 32 Red Casino.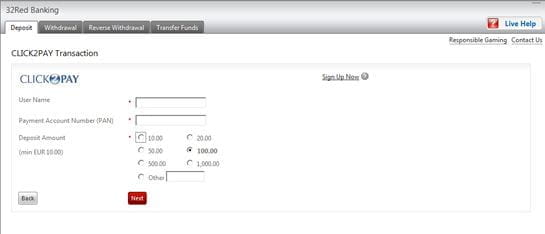 To deposit funds in your 32 Red account using CLICK2PAY:
Visit 32 Red Casino, sign up for an account and install the software.
Open the casino software and log in.
Click the 'bank' button.
Select the 'deposit' tab.
Select 'CLICK2PAY' from the list of payment options. 
Enter your CLICK2PAY username and Payment Account Number (PAN).
Enter the amount you wish to deposit.
Click next.
Follow the onscreen instructions.
Withdrawing winnings using CLICK2PAY
Although CLICK2PAY is widely supported by online casinos as a deposit method, most online casinos don't allow you to withdraw money through it. These casinos include the likes of 32 Red Casino, Unibet and Casino Euro.
As a result, it is advisable that you first check that the online casino you wish to use, supports CLICK2PAY as a withdrawal and deposit method. Should this not be the case, we recommend considering one of the alternative payment methods available.
Increasing your limits: verifying your credit card
As stated earlier, until you have validated the credit card you entered when registering, your transactions will be severely limited.
The verification process will see a small, random amount being charged to your card. To complete the process, all you need to do is:
View your credit card statement.
Locate the charge and make a note of the amount in Euro.
Log into your CLICK2PAY account.
Click 'Account' and then 'Payment methods'.
Click the 'View Details' link next to MyCreditCard.
Enter the validation amount in Euros.
Once validated, the amount will be credited to your account.
Additionally, to withdraw funds you will need to increase your star count (a five-point protection system to prevent money laundering) to at least two. You can do this by contacting CLICK2PAY's customer services, who will advise you further.
CLICK2PAY– conclusion
Although widely supported as a deposit method, the fact many major casinos don't support CLICK2PAY as a withdrawal method automatically means you'll need to use an alternative payment method anyway.
Not only are nearly all of these alternatives supported as payment and withdrawal methods, often they're considerably cheaper.
Additionally, during the process of writing this guide, we found CLICK2PAY's customer service to be wholly unsatisfactory, sometimes taking weeks to reply to enquiries. As a result, we would recommend you use one of the other payment methods found in our payment methods section before signing up for CLICK2PAY.
Finally, here are some facts about CLICK2PAY:
Owned by Wafepay.
Based in Aschheim, Germany.
Customer service numbers available in the US and Germany.
Payments possible via credit/debit card, bank transfer and Ukash.
Withdrawals via check and CLICK2PAY debit card.