Casino software
Online casinos typically offer players one of two means of playing their games: download, or non-download. A non-download casino runs from within your browser, provided you have a Flash player installed.
A download casino requires you to download an installation file (also known as a .exe file), which installs its casino software on your PC. Some casinos offer both.
The quality of Flash games continues to improve rapidly, and as a result, many non-download games are beginning to match their download rivals in terms of graphics and sophistication. The casino software market is dominated by two companies: Microgaming and Playtech.
Downloading casino software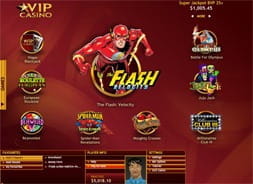 Some online casinos, such as Roxy Palace, give you the option to download the software when you log in via their websites. In most cases though, you'll find the option to download the necessary software straight from the homepage, before you've even registered.
Once you click the download link, you're normally redirected to a page containing instructions on how to install the software. These usually comprise of three steps:
Start the download.
Advise the person downloading it that the download may take several minutes, depending on connection speed.
How to launch the installation file.
If there are any additional steps, or things you need to look out during the installation process, these will also be mentioned on this page.
Installing the casino software
Once the download is complete, it's time to run the installation file. Once launched, you'll be shown the casino's terms and conditions, which must be agreed to in order for the installation to continue.
We strongly advise you copy these and take the time to read them to avoid any unpleasant surprises later on.
Once the software is installed, you are ready to play, either in practice mode, or for real money. Further information on which software each online casino uses can be found in our reviews section.
Next chapter: opening an account.