Grand Lisboa Casino Macao
Located opposite the original Casino Lisboa, this impressive 58-storey building takes the essence of the original Casino Lisboa and embodies it in a state-of-the-art complex.
The building is shaped in the form of a shining yellow Lotus on a spherical, eight-storey podium. The podium houses the Grand Casino Lisboa with its restaurants, while the Lotus Hotel boasts 1,000 hotel rooms. As a result, it is one of the most impressive complexes in all of Macao.
Where tradition meets modernity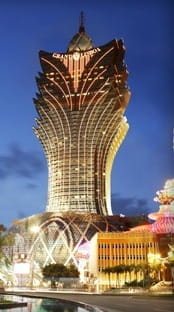 Widely acclaimed as a clever combination of traditional hospitality with modern facilities, the Casino Lisboa Macau sets the standard for casinos in the territory. Located less than 15 minutes away from Macao International Airport, and only five minutes from the Macao-Hong Kong Ferry terminal, its central location offers ease of access as well as luxurious comfort – making it appealing to both holidaymakers and business guests alike.
Much like Macau itself, the Casino Lisboa decor and furnishings offer a fusion of Chinese and Portuguese styling, with a strong focus on tradition. Alongside lavish marble and mosaic décor, the Lisboa also has an enviable collection of sculptures and ornaments. These include a two-ton white jade sculpture detailing the life of the Buddha.
Luxury is its trademark
In total, the Casino Lisboa has over 2,360 rooms, over 400 of which are situated in the Grand Lisboa. Luxury is something the hotel has taken to heart, with its many suites designed for total relaxation. From standard rooms to presidential suites, all rooms at the Hotel Lisboa are luxuriously furnished and refurbished every five to six years, ensuring comfort in the most up-to-date way possible.
Modern facilities in each room include private bathroom, satellite television, music, radio, and a private in-room safe. Mini-bars offering mineral water, beer, juice and a selection of Chinese teas are also available. As an added plus, calls to local telephone numbers, and broadband internet connections, are available free of charge. Most of the Grand Lisboa's rooms offer magnificent views of the South China Sea and Macao's many famous landmarks.
A fantastic place to gamble
The fact it's part of the Lisboa ensures the Grand Lisboa's guests are able to gamble in style. Its 190,000 sq ft (18,000m2) casino floor offers some 480 slots and 240 table games. These include:
Regular special events and promotions are held, and big jackpots and progressive jackpots are common. And alongside the main casino itself (which remains open 24 hours a day), there's also a dedicated poker room.
Elegant dining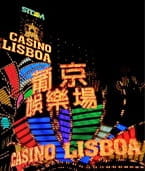 Alongside the casino and hotel, the Grand Lisboa also offers a stunning array of eight bars and restaurants. Between them, these cover all the important bases in the culinary spectrum, ranging from refined French cuisine, to Asian buffets and top quality steaks:
The Robuchon au Dôme, a French restaurant with three Michelin stars and 2,800 bottles of the finest wines from around the globe.
The 8 Restaurant, which serves stunning Chinese cuisine.
The Don Alfonso 1890, which specialises in only the finest Italian food.
The Kitchen, an innovative twist on the traditional steak house.
The Grand Buffet, offering a range of quality Asian food cooked right in front of you.
The Crystal Lounge, the perfect place to grab a coffee and deli-style sandwich
The Noodle & Congee bar, which offers traditional Chinese noodle dishes.
The Round-the-Clock Coffee Shop, which offers everything from hamburgers to dim sum.
The Lotus Lounge, a style bar where you can enjoy a snack over a refreshing drink.
A world of entertainment
The Grand Casino Lisboa is also home to the world-renowned Crazy Paris cabaret show, treating guest to a stunning display of dance routines including the can-can, pole dancing and the sway.
The hotel itself also boast a range of other forms of entertainment including a swimming pool and gym, salon, spa, shops and even guided tours of Macao.
Grand Casino Lisboa facts and figures
Finally, here's an overview of the casino:
Address: Avenida de Lisboa, Macau
Total gaming space: 18,000m2 (190,000 sq ft)
Opened: 11 February, 2007
Total number of rooms: 400+
Parent company: SJM International
Total number of slots: 480+
Smoking: Permitted in designated areas
Are you ready to play at Casino Lisboa? Visit the
official website
for more information.