Macao Casinos
In years gone by, had you to asked someone to think of land-based casinos, or even online gambling, the first thing they'd have thought of would have been such famous gambling cities as Las Vegas, Atlantic City or Monte Carlo.
Back then, few would have instinctively thought of a place such as Macao. But times change, and nowadays – fuelled by a boom in demand for casino gambling in Asia – Macao's array of
famous casinos
generate more revenue than even Vegas itself.  
Famous casinos in Macao include:
A history of Macao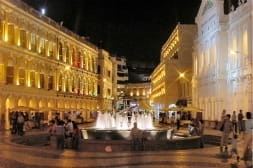 According to legend, a junk boat found itself in a sudden storm in the China Sea. Everyone on board panicked and were preparing to meet their doom, when a beautiful young woman, who had just come aboard stood up and commanded the sea to become calm once more. Miraculously, the winds subsided and the waters became calm, allowing the junk to continue its voyage to the port of Hoi Keang.
Once docked, the woman went ashore, and then proceeded to climb the hill of Barra from where she ascended to heaven. A temple was built in homage to her on the exact spot where she set foot on land.
The name Macao dates back to the sixteenth century. When asked by Portuguese sailors what its name was, the locals said the peninsula was called A-Ma-Gao (Bay of Ama). Over time, this name evolved into Macao.
Thanks to its geographical location and colonial history, Macao has a pleasingly unique cultural identity. Sovereign ownership of the territory may have reverted back to China on December 20, 1999, but there's still plenty of Portuguese influence evident in Macanese culture.
Today, Macao is considered to be a "special administrative region" of the Popular Republic of China. Much like Hong Kong, this special status means Macao can retain its own social and economic systems and identity, in accordance with the 'one country, two systems' principle.
As a result, the handover has meant Macao's gambling sector has been able to continue. Gambling was first legalized in Macao in 1847, as a means to generate additional income. Since then, gambling has become a vital part of the territory's economy, earning it the nickname as the 'Monte Carlo of the East.'
Gambling culture in the city has evolved over time, too. Initially, only Chinese-style games, such as the popular fan-tan were played. This started changing as the first licensed casinos started opening in the Seventies, resulting in an influx of Western games. Nowadays, Macao's casinos offer a blend of games from both East and West.
As a result of its ongoing success, Macao is now considered to be one of the top ten casino and gambling destinations in the world, and visitor numbers are booming. Since 2009, its casinos have generated more revenue than those of Las Vegas.
Casinos in Macao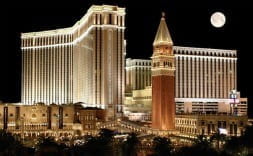 Macao offers gamblers an intriguing combination of tradition and modernity unavailable anywhere else in Asia. Within the territory's borders, you'll find established casinos such as the Grand Lisboa Casino as well as cutting edge resorts like the Sands Macao and the Venetian Macao.
Arranging your stay at any of these casinos couldn't be easier. Each allows you to book your stay via its official website, which are also filled with a whole host of additional information. You'll find links to these in each of the reviews. 
Vegas may still be considered the spiritual homeland of gambling, but for those looking for a casino experience unlike any other, Macao is the place for you.
Read about another kind of famous casino experience: Casino Cruises