Casino Stratosphere
Located on Las Vegas' world-famous Strip, Stratosphere Casino certainly lives up to its name. The famous tower in which it's based is the tallest building in the city, and the tallest observation tower in the United States!
The Stratosphere Tower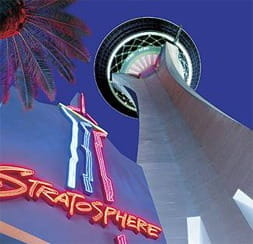 Owned by Whitehall Street Real Estate Funds (an affiliate of Goldman, Sachs & Co.), the Stratosphere Tower is certainly a unique location. The building is some 350m (1158ft) tall, and is the highest observation tower in the USA. In fact, were it not for Toronto's CN tower, it would be the tallest observation tower in the Western Hemisphere.
The hotel itself is situated in a separate 24-storey building, with 2,427 room and a 7,400m² casino.
Being situated in the Strip means it's close to many of Las Vegas'most popular attractions:
Red Rock Canyon National Conservation Area (2km away)
A wide selection of golf courses
Valley of Fire State Park
Madame Tussauds
Mount Charleston
It's also the most northerly of Las Vegas' famous casinos. Indeed, it's technically the only one situated in Vegas itself, as to it south lie the settlements of Paradise and Winchester.
This interesting blend of location, style and scale certainly came with a suitably impressive price tag: when Whitehall Street purchased American Casino & Entertainment Properties (then owners of the Stratosphere, along with three other properties) in February 2008, it paid $1.3 billion.
A history of the Stratosphere Casino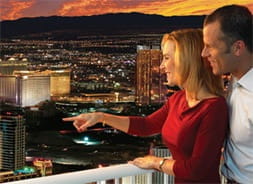 The Stratosphere Casino was designed by Bob Stupak in the early Nineties. Although by no means your average building – even by Las Vegas standards – the original design had called for something truly out of the ordinary.
Among the planned attractions was a giant gorilla, which would carry customers up the length of the tower's columns. The building was originally supposed to be taller than Toronto's CN Tower. However, concerns about it interfering with flights from Las Vegas' International Airport ensured it was restricted to a still-impressive 350m.
These early struggles very much set the tone for the Stratosphere Tower's birth and early years, as its history shows.
August 29, 1993: A fire breaks out during construction. Nobody was injured, but the project was delayed.
1995: Grand Casinos becomes a partner in the project. Stratosphere Corporation is formed and floated, enabling people to buy shares in it.
April 30, 1996: The tower officially opens
January 27, 1997: unable to meet its mortgage repayments, Stratosphere Corporation files for bankruptcy protection.
The bankruptcy put paid to ongoing efforts to build a second tower, of which a few floors had already been built. It did enable Carl Icahn to step in though. Icahn used one of his companies to purchase a controlling majority from the outstanding bonds, and get the project back on track.
A substantial expansion of the facilities was completed in 2001, at a cost of $1 billion. Although this boosted capacity significantly (adding a further 1,000 hotel rooms in a separate tower), again, it wasn't quite as grandiose as first planned.
The original plans had called for a rollercoaster to be built that actually crossed Las Vegas Boulevard. However, the required planning permission was never granted by Las Vegas City Council, following concerns regarding the noise level it would generate.
Restaurants at the Stratosphere Casino Las Vegas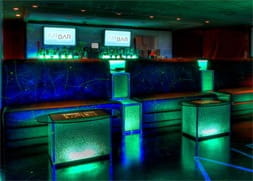 There's no shortage of fantastic dining options in the Stratosphere Casino! The obvious choice is the Top of the World revolving restaurant, which can be found at the top of the Stratosphere Tower.
Those with less of a head for heights may wish to check out Fellini's Italian restaurant, with its famous all-day, eat-all-you-can buffet. There's also Roxy's, a Fifties-themed diner, and the Lucky Café, with a menu reminiscent of Las Vegasin its heyday.
Stratosphere facts and figures
Finally, here is and overview of the Stratosphere Las Vegas.
Address: 2000 Las Vegas Blvd. South, Las Vegas
Opened: April 30, 1996
Total gaming space: 7,400m² (80,000 sq ft)
Total number of rooms: 2,427
Parent company:WhitehallStreet Real Estate Funds
For further information, including how to reserve a room there, please visit the official Casino Stratosphere website.