Luxor Casino Las Vegas
Of all the casino-hotels in Las Vegas, it's the Luxor that's probably its most recognizable. Even if you never heard its name before, its iconic pyramid shape and giant sphinx are two of the most famous structures found on the Strip. Indeed, if you watch a movie set in Vegas, chances are you'll see it featured at some point.
The Luxor opened in 1993, and has over 4,400 rooms. Befitting its name, the hotel and its facilities were originally designed with a strong Egyptian theme in mind. This remained in place until 2003, when owner MGM Mirage spent $300 million revamping 80% of its public areas.
As a result, most of the Egyptian-themed facilities have been replaced by more traditional modern restaurants and clubs.
A history of the Luxor Casino, Las Vegas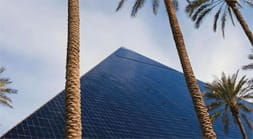 Located at the southern end of the Las Vegas Strip, close to McCarran International Airport, the Luxor Las Vegas is situated between Mandalay Bay to the south, and Excalibur to the north. All three are connected via free express trams, and are grouped together under the Mandalay Resort Group banner.
In June 2004, MGM Mirage purchased the Mandalay Resort Group.
When it first opened on October 15, 1993, its iconic pyramid was the largest building on the Strip. It took two years to build, employing 968 workers and costing £375 million.
At first, the Luxor was renowned for its strong ancient Egyptian styling. This included much more than just the architecture of its structures. Within the pyramid, guests could see a replica of Tutankhamen's crypt. Other attractions included a Nile Tour ride, which itself had started out as a water-based transportation system until complaints about its slow speed forced it to be transformed into a ride.
In 1995, the decision was taken to dramatically scale back the Egyptian theme in the hope of attracting richer customers. This resulted in attractions such as the Nile Tour being closed.
Since then, the hotel has been revamped and expanded to keep pace with demand. In 1998, a theatre and two additional hotel towers (adding an extra 2,000 rooms) were constructed at a cost of $675 million. In 2003, its parent company then spent a further $300 million modernizing 80% of its public facilities.
Design

Designed by architect Veldon Simpson, its bold styling ensures the Luxor is one of the most instantly recognizable buildings on the Strip. Its world-famous black glass pyramid stands thirty stories high; and at 110m, is almost as tall as the Great Pyramid of Giza (146m). Its footprint is 169m², and the inner angle of its walls is 39°.
Within the pyramid, you'll find hotel rooms lining the outer walls. These rooms are accessible by 'inclinators' – elevators that travel the length of its inner surface. Its internal walls overlook the atrium, which is the largest in the world at 820,000 m³.
Literally topping the building off is its impressive light beam. This is said to be the most powerful light beam in the world, as its array of figures duly demonstrate:
Its 39 xenon lamps have the brightness of 42 billion candles.
The lamps regularly heat up to over 430°C.
The beam can be seen from anywhere in Las Vegas Valley, the Hoover Dam, by aircraft flying over LA (440km away), and even from space.
The beam is so powerful, you could use it to read a newspaper while ten miles up.
In spring, it attracts swarms of insects, creating a visual effect similar to snow.
It costs $51 an hour to power – enough to power the average American family home for two weeks.
Outside the building, you'll find plenty of other structures of note, including a large obelisk featuring the Luxor name in neon lights, and a massive replica of the Giant Sphinx, under which the entrance passes.
Luxor facts and figures
Address: 3900 Las Vegas Blvd, Las Vegas
Opened: October 13, 1993
Total Gaming space: 11,900m² (120,000 sq ft)
Total number of rooms: 4,407
Parent company: MGM Resorts International
For further information, including how to reserve a room there, please visit the Casino Luxor official website.
Check out our next famous Las Vegas casino review: the Flamingo