Caesars Palace Casino
Caesars Palace is one of the most established casinos on the Stip. Many of Las Vegas' leading casino-hotels were only launched in the Nineties. However, Caesars Palace has been giving gamblers a luxurious place in which to pursue their favorite hobby since 1966.
From lavish hotel rooms to a total gaming floor space of over 15,000m², this is a gambler's dream come true. Caesar's Palace is home to the famous World Series of Poker, too.
Fit for an emperor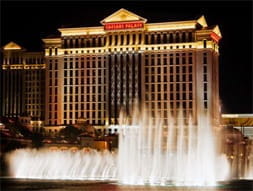 Situated between
the Bellagio
and the Mirage, Caesars Palace's perfect positioning ensures it's easy to find for the millions who flock to the Strip each year. It's also close to
Las Vegas
highway, affording quick access to McCarran International Airport.
Despite its age, Caesars Palace's hotel and casino are nothing if not luxurious. As its name suggests, Caesars Palace has a strong roman theme to it. As you enter its complex, you'll do so passing splendid marble columns. Once inside, you'll find a four-storey atrium design to look like a Roman square set against the backdrop of an evening sky.
In all, 3,960 rooms are available, with a variety of suites available to cater for different budgets. Many rooms are furnished in traditional Tuscan colors to match the Roman styling. Although others feature far more contemporary styling.
All rooms feature broadband internet, mini-bars, air conditioning and coffee making facilities. Room service is available 24 hours a day, and laundry and dry cleaning services are also available.
Gamblers are likely to be impressed by its casino. In total, some 15,442m² (166,000 sq ft) is available. Poker, roulette, craps, blackjack, baccarat, pai gow and other table games await within, as well as more than 1,500 slots.
Sports betting is also available.
Show time at Caesars Palace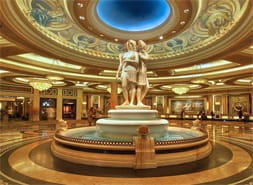 Entertainment is something you won't be lacking for at Caesar's Palace. Alongside its world-class gambling facilities, its entertainment lineup is second-to-none.
Resident musicians include Elton John, Rod Steward and Celine Dion. Jerry Seinfeld is also a regular performer at the venue, as well as Absinth, the circus show described by the New York Times as "Cirque Du Soleil channeled through the Rocky Horror Show".
For those more interested in chilling out, there's the stunning Qua Baths & Spas, as well as a swimming pool on the roof. A wide array of fine dining and simple restaurants ensures there's top quality food for all palettes.
Caesars Palace also offers a sumptuous array of shops as well. This includes outlets for such luxury brands as Gucci, Hugo Boss, Louis Vuitton, A/X Armani Exchange, BeBe, Tiffany & Co. and Burberry.
From corruption to salvation
Given its age, its hardly surprising that Caesar's Palace's past is somewhat murky. The brainchild of Jay Sarno, construction work on the hotel began in 1962, with Caesar's Palace opening on August 5, 1966.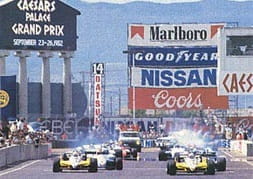 Right from the outset, luxury was at the heart of Sarno's vision. Sarno was of the opinion that every guest should feel like they were being treated like royalty when visiting. Indeed, the name "Caesars Palace" was chosen over "Caesar's Palace", so that every guest was seen as being a Caesar, rather than being Caesar's guest.
In the decades that followed, Caesars Palace expanded greatly, with new buildings adding new features to the mix, as well as boosting existing hotel capacity.
Caesar's Palace is no stranger to weird and wonderful promotional stunts. Many of the world's greatest stuntmen, such as Evel Knievel, have attempted to jump the famous fountain there. Many great boxing and wrestling matches have taken place in its grounds. It even used its car park to stage Formula One Grand Prix in 1981 and 1982.
Also, as the videogame boom kicked off, it opened its own Atari game room (complete with over 60 Atari cabinets) during the Eighties.
As with many casinos of the time though, Caesar's Palace was no stranger to links with the mafia. Some of its senior figures, were accused of having connections with organized crime in the Sixties, Seventies and early Eighties. Although as with the rest of the Strip, Caesar's Palace has tidied up its act over the last couple of decades.
Caesars Palace facts and figures
Finally, here's a brief overview of Ceasars Palace's important statistics:
Address: 3570 Las Vegas Blvd South, Las Vegas
Opened: August 5, 1966
Total gaming space: 15,442m² (166,000 sq ft)
Total number of rooms: 3,960
Smoking: yes
Number of slots: 1,500+
Parent company: Caesars Entertainment Corp.
For more information, including how to book your room, please visit the Caesars Palace official website.