Las Vegas Casinos
If ever there was a city synonymous with casino gambling, it's Las Vegas. The image of ostentatious casino buildings bathed in the multicoloured glow of a sea of neon lighting is one of the most instantly recognizable in the world.
In recent times, declining visitor numbers and lower takings have seen Vegas fall behind the likes of Macao, statistically speaking. But nevertheless, Vegas remains the spiritual home of casino gambling.
Much of this is down to Vegas' unrivaled concentration of famous casinos, which include the following:
A brief history of Las Vegas

"Las Vegas" is Spanish for "the meadows". It was discovered by chance in 1821 when a Spanish colonist stumbled upon it while searching for water. Over the coming decades, it became an important stop-off point for settlers on their way West.
Despite the State of Nevada's attempts to outlaw gambling in 1910 (which lasted all of three weeks), Las Vegas has enjoyed a long association with gambling. The first of its now-famous casino-hotels opened in the Thirties. And as more and more people flocked to the city, this element of Vegas grew rapidly.
For many years, the gambling sector there was closely associated with organized crime, especially in the Fifties. Many notorious criminals were heavily involved with running or funding the casinos. However, Vegas has cleaned up its act since then.
Casinos and entertainment in Las Vegas
As Vegas' reputation as the gambling capital of the world took off, so too did its entertainment sector. When "El Rancho Vegas" was still one of the only Las Vegas hotel in 1941, singers, comedians, musicians and dancers were employed to entertain hotel guests.
The Stardust Hotel was the first to introduce shows to Las Vegas when it brought the Lido de Paris show over from France. Now its common for famous musicians, singers, magicians, comedians and other entertainers to perform in Vegas on a regular basis.
Las Vegas the resort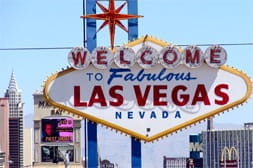 As a holiday destination, it's easy to see why Vegas is such a hit. For seasoned gamblers, the chance to gamble in the hallowed halls of the Bellagio or Caesar's Palace is reason enough to want to holiday there. And even for those who aren't, the abundance of other attractions, plus the chance to gamble a few bucks here and there, makes it an appealing vacation destination.
Such a popular destination is it that if you want to stay in the most famous casino-hotels you'll often need to reserve your room – and even your place at their tables – well in advance of your trip.
As with all modern hotels though, this is very easy nowadays. All of Vegas' big hotels allow you to book online. The choice of rooms is also comprehensive, catering for all budgets. So regardless of whether you're high roller or just a regular tourist looking to stay near the heart of the action, most have a selection of suitable rooms.
You'll find links to all these hotels' websites in the individual reviews above.
You can even book seats at games, ensuring hassle-free gaming. Just remember to book early, especially if you intend to visit during peak season!

Other famous casino locations: Monte Carlo