Casino Baden-Baden
Typically, famous casinos are to be found in cities with powerful, yet unique senses of identity that lend themselves naturally to gambling.
From Las Vegas to Monte Carlo, Macao to San Remo and Venice, each of these cities has the sort of trademark image that naturally compliments gambling.
Against this backdrop then, it seems hard to think that there's a major casino in a quiet spa town in the foothills of Germany's Black Forest. But not only does just such a casino exist in the town of Baden-Baden, the Casino Baden-Baden is also one of the most famous European casinos going.
A long history of gambling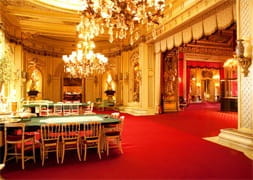 Thanks to Germany's often turbulent history, the story of Casino Baden-Baden can be split into three distinct stages. The first of which dates back to the turn of the Nineteenth Century.
Baden-Baden's famous hot springs have ensured it's always been a popular tourist destination, especially with those looking to use the springs to alleviate their various ailments. By the late Eighteenth Century, this included members of the Prussian royal family, which made it popular with the region's nobility in turn.
Thanks to the sudden influx of wealthy aristocrats from Prussia and other Germanic states and principalities, the decision was taken in 1801 to legalize gambling in Baden-Baden.
Organized gambling quickly took off. Initially, this took place in the town's many hotels. But by 1809, buildings such as the Konversationshaus am Marktplatz (formerly occupied by the town's Jesuit college, and now home to its town hall) were opening dedicated 'spielsaals' – gambling halls.
Another prominent building to get in on this act was the Promenadenhaus, which was transformed into the Kurhaus (spa) in 1824 by renowned architect Friedrich Weinbrenner. And it was here that the Casino Baden-Baden would emerge.
In 1838, the casino was taken over by French casino magnate Jacques Benazet, who would continue to run the casino until his death in 1848, and was responsible for introducing such games as roulette to it.
But it was under the tenure of his son Edouard, who succeeded his father upon his death, that the casino really flourished. Edouard understood that a successful casino shouldn't focus solely on gambling, but embrace other forms of entertainment as well.
As a result, famous actors and musicians flocked to Baden-Baden. And when new spielsaals were added to the building in 1855, they were designed and decorated by only the best architects and artists.
Grand closing, grand reopening, grand closing
With its new facilities, the Casino Baden-Baden was as well-equipped as any of Europe's other famous casinos of the time. But it was not to last. Following Germany's unification under the Prussian royal family the previous year, a law was passed ordering the closure of all of Germany's casinos in 1872.
This remained in force until 1933, when the casino was able to reopen its doors. Ultimately, this too would come to an abrupt end, again due to circumstances beyond the casino's control – in this case the Second World War.
Nevertheless, the 'second casino' managed to struggle on until relatively late in the war. It finally closed in 1944, when the tide of war had swung decisively in the Allies' favor.
Back for good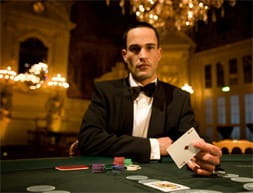 The third era of the Casino Baden-Baden was ushered in on April 1, 1950, when the casino reopened its doors for the first time since the end of World War Two. And giving credence to the old adage that 'three times is a charm', it has remained open ever since.
As with most casinos, Casino Baden-Baden offers a mixture of slots and table games. Games on offer include the following:
Roulette (including a new version called 'Eurolette')
130+ slot machines (video slots and mechanical slots)
Of note here is that the casino operates different opening hours and entry fees for different games. Slots can be played from noon onwards, with the entrance fee being as low as €1; while table games are available after 1400 CET, with the entrance fee being €5.
The casino is also famous for its frequent poker tournaments and promotions. A variety of these are available at any given time, differing in terms of minimum buy-ins and fees to allow gamblers of all budgets to enjoy the thrill of organized poker games.
Places need to be booked in advance, and details are available on the casinos website.
Great music and fine dining
Given its past as a spa and entertainment venue, it should come as scant surprise that Casino Baden-Baden excels in other forms of entertainment as well.
The modern Kurhaus continues to be one of the town's leading cultural establishment, frequently hosting musical performances, readings and dance events. The casino is known to lay on sports events, such as golf tournaments, as well.
Its Sommergarten restaurant is also of note, serving high quality Mediterranean and international cuisine all year 'round. As its name suggests though, it's the summer months when the restaurant really comes to life though, when it opens its terrace.
And of course, there's the Kurhaus itself. Its days as a spa may be behind it, but with its lavish French styling and elegant architecture, simply wandering along the Kurhaus' halls and corridors, or around its impeccably maintained gardens, is an experience in itself.
Baden-Baden – a great place to stay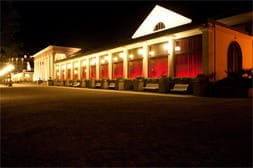 As with many of Europe's other casinos, Casino Baden-Baden does not have any accommodation facilities of its own. However, as one of Germany's historical tourist hotspots, Baden-Baden itself is not short of hotels and guest houses.
As well as the casino, the town has a number of other attractions, not the least of which being Germany's breathtaking Black Forest. So for those who wish to get back in touch with nature after a night at the tables, there is no better place to do so than Baden-Baden.
Casino Baden-Baden facts & figures
Finally, here are some facts and figures relating to the Casino Baden-Baden:
Address: Spielbank Baden-Baden, Kaiserallee 1, 76530 Baden-Baden
Opened: 1824 (reopened in 1933, and again in 1950)
Parent Company: Baden-Württembergischen Spielbanken GmbH & Co. KG
Total Number of slots: 130+
Smoking: No
For further information, please visit the Casino Baden-Baden official website (German language only).