Carnival Cruises Casinos
When it comes to casino cruise operators, they don't come much bigger than Carnival Cruise Lines. A member of World's Leading Cruise Lines, Carnival has a fleet of 23 luxury cruise liners, with a further ship currently on order.
Its ships sale to a wide range of destinations. These include all the traditional routes such as the Caribbean, Europe, Mexicoand Hawaii. However, it also includes destinations such as Alaska.
A wide selection of games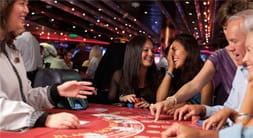 Carnival's casino cruises offer a spread of games broad enough to rival anything you'd expect to find in a famous casino, ranging from a selection of traditional and modern slots, to all your favorite table games. These include the following:
High-limit tables
For high-rollers, Carnival Casinos cater for blackjack with limits that vary from $25 minimum to $500 maximum. This raised minimum (tables starting at $5 and $10 are also available) attracts a higher level of player, and results in a higher quality of play.
Carnival also allows higher maximums for players who request this, subject to approval. The dealer also follows Las Vegas-style rules in all Carnival casinos, meaning that he is obliged to stand on a 'soft 17'. These casino rules generally favor the player more than the rule requiring the dealer to hit on soft 17.
Carnival also provides double odds on craps with a minimum of $5 and a maximum of $200 for the pass line. Again, there is the possibility for high rollers to request higher maximums by prior agreement with the management.
Fun on the high seas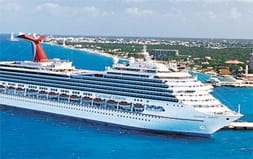 As with all modern land-based casinos, Carnival cruises offer a wealth of other things to do as well besides gambling.
For those who wish to take in a show, each of its cruises offer live music, theatre performances, comedians and a host of other events. For those who prefer to unwind by working up a sweat, all Carnival cruise liners come equipped with swimming pools (including water slides on selected vessels), gyms, mini-golf and a host of other sports facilities.
For those who prefer to just lie back and be pampered, a selected number of Carnival's liners boast world-class spa and sauna facilities. And for those who wish to relax over a good meal, or with a cool drink, a selection of bars and restaurants are available on board.
Welcoming the Ocean Players Club
All World's Leading Cruise Lines cruise ships cater for The Ocean Players Club. This offers players of all levels rewards for playing slots and at tables with increased limits, to accommodate high rollers. Points are awarded to players, which can be used for a number of things, including:
complimentary drinks and gifts
onboard service discounts
privileged benefits
cash back towards future cruises (restrictions apply).
These points can be used onboard and World's Leading Cruise Lines vessel, and not just those sailing under the Carnival banner,. Furthermore, a casino host welcomes you onboard and tends to your every need.
For further information, please visit the Ocean Players Club website for more information at www.oceanplayersclub.com.
Carnival Cruise Lines facts & figures
Finally, here are some facts and figures relating to Carnival Cruise Lines:
Size of fleet: 23 cruise liners (plus one on order).
Destinations: Alaska, Canada and New England, Hawaii, the Bahamas, the Caribbean, Mexico, Bermuda, Europe.
Connectivity: Cell phone service, WiFi internet
For further information, please visit the World's Leading Cruise Lines' official website.
Read the next review in our Casino Cruises section: Celebrity Cruises