The Atlantic Club Casino Hotel
Formerly known as the Atlantic City Hilton (or ACH), the Atlantic Club Casino Hotel has established a reputation for excellence that few casinos in Atlantic City can match.

At present, this luxury hotel casino features some 800 deluxe rooms (many commanding stunning sea views of the Atlantic) and a casino some 7,000 m² in size. And having undergone major renovation work in 2012, it looks like its already enviable position will be assured for many years to come.
A rich history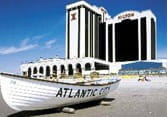 The hotel now known as the Atlantic City Club first opened in 1980, and was the sixth casino to open in
Atlantic City
following the legalization of gambling in 1976.
The casino was the brainchild of Casino magnate Steve Wyatt and his Golden Nugget Companies, and controversial businessman Michael R. Milken. Wyatt was keen to apply the lessons he'd learned in Las Vegas in Atlantic City, and so set about buying the Strand Motel.
Rather than try and convert the existing property into a casino, Wyatt simply tore it down and built a bespoke building for his new $140 million extravaganza. The result was 506-room luxury hotel with a casino with a total floor space of more than 7,000m².
The Golden Nugget Atlantic City (so-named after the famous casino in Vegas, which was also owned by Wyatt's company) opened its doors on December 12, 1980, and proved to be an instant hit. Indeed, by 1983, it was the city's top earning casino.
Despite this, a succession of fallings out with local officials resulted in Wyatt selling the casino to the Bally's Entertainment Corporation in 1987 for $440 million. Thus began a period where the hotel changed hands and names several times.
1987: Bally's buys the hotel and renames it the Bally's Grand
1995: Hilton Hotels buys Bally's Hotels Corp., and the hotel becomes the Atlantic City Hilton.
1998: Hilton spins off its casino properties to form Park Place Entertainment.
2005: Resorts International Holdings buys the Atlantic City Hilton.
2011: Hilton ends its name licensing agreement with the hotel's owners, resulting in the hotel temporarily being known as the ACH.
2012: The hotel is re-launched as the Atlantic Club Casino Hotel.
Gambling with an international feel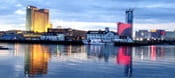 The Atlantic Club casino has been designed to offer a varied experience to the gamblers who frequent it. On its 7,002.5m² (45,374 sq ft) casino floor, you'll find a variety of games.
Some 11 types of table game feature, offering everything from four different varieties of poker to roulette, baccarat and even 10x craps. The casino also features more than 400 classic and cutting edge slots. The amounts you can gamble are equally varied, ranging from penny machines to dedicated high-limit slots areas.
Arguably its most stunning feature, however, is its Asian room. This stylish haven for the serious gambler offers 29 different games, and even has its own cashier and noodle bar.
Luxury done properly
Along with a breathtaking casino, the Atlantic Club's penchant for luxury also extends through to its hotel. Its 800 rooms offer a range of accommodation options, from elegant deluxe rooms to stunning executive suites.
Rooms come equipped with TVs, internet access, 24-hour room service and luxury fittings and furnishings, and many of them feature stunning views of the Atlantic ocean.
With luxury like this, it's scant surprise that the hotel has been awarded the prestigious three diamond award by the AAA!
Dining at its finest
The Atlantic Club doesn't disappoint when it comes to dining. From Asian and Italian cuisine to surf 'n' turf, the Atlantic Club's three restaurants offer those who wish to eat out in style just what they're looking for.
However, those looking for something a little more casual are equally well catered for. Two coffee shops, a burger bar and an eat-all-you-can buffet offer wholesome food and drink at friendly prices.
And if you're looking to celebrate a big win – or drown your sorrows after losing – in the casino, there's no better place to do that than in the Atlantic Club's two bars: Dizzy's Dolphin and the Beach Bar.
World-class entertainment
The Atlantic Club is famous for its choice of entertainment with internationally renowned stars performing in their theatre devoted to concerts and sports events. Please feel free to visit the official site, where you will find all the up-to-date information regarding performances and also the possibility to book online.
The Atlantic Club facts & figures
Finally, here are some facts and figures relating to the Atlantic Club:
Address: Boston Avenue and the Boardwalk
Total gaming space: 7,002.5m² (75,374sq ft)
Opened: December 12, 1980
Total number of hotel rooms: 800
Parent company: Colony Capital/Resorts International Holdings.
Total number of slots: 400+ (approx.)
Smoking: permitted in a designated area
For further information, including how to reserve a room, please visit the Atlantic Club official website.