The end of dog races in the US is near
12-03-2012
The end of greyhound races in the United States seems to be near. More than 50 percent of the greyhound tracks have already shut down in the last decade. The current greyhound tracks manage to survive thanks to the addition of casino games. They are allowed to offer slot games and poker tables, with a portion of the profits flowing to the greyhound races.
Forced to host greyhound races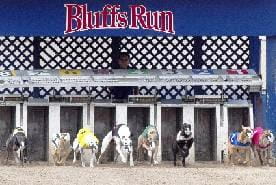 They raise objections to the fact that they are required to host dog races, although its popularity has fallen sharply. Track owners in Iowa, Florida and Arizona urge politicians to change the law, enabling them to reduce the number of races, or entirely end the dog races.
$49 million to end dog races
"It's pointless to subsidize a pastime that many fans have deserted," according to Bo Guidry from
Horseshoe
Council Bluffs. Caesars Entertainment Inc., which operates Bluffs Run Greyhound Park, is willing to pay $49 million to the state in order to end the dog races.
Popular among pensioners
Greyhounds races are still popular among elderly. It's not surprising that half the
greyhound
tracks in the country can be found in Florida, the state with the largest number of pensioners. Bluffs Run Greyhound Park, located in Iowa, can welcome 6,500 spectators. However, that number hasn't been reached in many years. It costs Caesars Entertainment $10 million a year to keep the greyhounds running six days a week.