Sports betting in your own language
05-12-2010
Betting on races and other sport matches is now a lot more interesting. The Inspired Gaming Group brings Virtual Sports. Henceforth, for each rung of Virtual Sports commentary in several languages is available. Examples of available sports are horse races and
football matches
. At present it is possible to listen to a game in 16 different languages. Besides, the commentary is synchronized with the game.
Betting site Bet365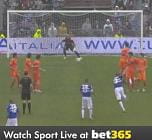 Bet365 is the first gaming site that will use Virtual Sports. This enables them to offer virtual games in 16 different languages. They also use the Virtual Platinum package, which also is produced by Inspired Gaming Group. This allows the
betting site
to offer more sports where you can bet on. Virtual Platinum also makes it possible for gamblers to choose the circumstances, so you can determine when and under what weather conditions a match occurs.
Cooperation through Virtual Sports

Both the Director of Inspired Gaming Group as the head of bet365 are pleased to work together. Since Bet365 has 4.5 million customers in 200 different countries it is very lucrative for Inspired Gaming Group to introduce Virtual Sports through this gambling site. For Bet365 this is a logical deal. Virtual Sports makes it now possible for far more people to gamble in their own language, and that leads increased sales.