Former stockbroker missing since 1979 shows up as bookie
30-07-2011
A missing man, who disappeared in 1979, has been discovered living in Las Vegas. Arthur Gerald Jones left his home in Chicago to go jogging. Since that moment, his wife and three children never saw him again. In 1986, a judge in Illinois declared the father of three dead. His family received survivors' benefits worth $47,000.
Bookmaker in Las Vegas
Last week, Jones showed up in Sin City. The 72-year old Jones has been operating as a bookmaker at Rampart Casino. He was detained for using a fake identification. Jones used the pseudonym Joseph Richard Sandelli.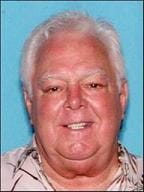 Connections with the Chicago mob
Jones declared that he had a seat in the Chicago Board of Trade. However, he sold his seat to finance a debt after a trading blunder. Jones was fired and he feared accusations of links to the Chicago mob. He was desperate and left his family.
Fake identity
A friend sold him a false driving license, a social security number and a birth certificate. Jones started using the name Joseph Richard Sandelli. He moved to Florida, before settling in Las Vegas. Jones started a new career as a bookmaker at Rampart Casino.
Gambling debts
His ex-wife Joanne Esplin declared that Jones was forced to sell his seat on the Chicago Board of Trade to finance his gambling debts. She added that her former husband once wagered $30,000 on a basketball match. Furthermore, Esplin stated that Jones counterfeited her signature to close on an additional mortgage. He needed the extra money to finance his gambling debts. Esplin accuses Jones of connections with the Chicago
mafia
.