Casino supervisors offered illegal online betting
03-02-2013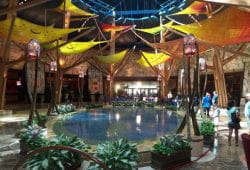 The 47-year-old Patrick M. O'Donnell and the 40-year-old Jason M. Singleman have been charged over alleged illegal betting. The two poker supervisors at the Mohegan Sun Casino reportedly offered gamblers sports betting through the online gambling site wager2020.com.
Body-wired informant
Montville Police called in a stool pigeon who contacted the duo to place bets through the online bookmaker. The body-wired informant placed three bets worth $750 at the Mohegan Sun Casino in March last year. Additionally, the stool pigeon placed a $200 bet with Singleman in the same month.
Temporarily suspended
A spokesperson for the Mohegan Sun Casino revealed that both employees had been temporarily suspended. The casino awaits the probe results into the illegal
sports betting
activities. The spokesperson refrained from making any further comments on the case. Montville Police inspectors are investigating the online bookmaking case.