Banker used company money to bet on horse races
05-12-2012
A Suncorp banker used over
$13,000 in company money
to bet on horse races. The 51-year-old bank manager blew away everything as he tried to recover his gambling losses. Glyn Ian Weir stole the first amount in April, when he gambled away  $4,400 at a hotel. One month later, the banker lost $3,000 in company money while wagering on horse races.
Breach of trust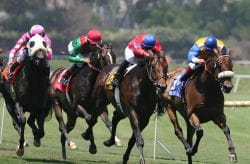 Weir decided to come clean and admitted everything to the bank, after which he was fired. The 51-year-old gambler has repaid every penny of the lost money. Weir has been sentenced to 15 months in jail. He misused his position to steal the money and he was charged with counts of criminal breach of trust with fraudulent intent.
End of career
Justin Thomas, who represented Weir, claimed that his client was a family man and a successful bank manager for more than 3 years. "My client's banking career is over due to the embezzlement. Mr. Weir became convinced he could win back the lost money. However, he came clean and confessed his embezzlement before it was discovered," Thomas stated. Last month, BestOnlineCasino.com reported about a
payroll supervisor who gambled away almost $1 million
in company money.