Robbie Williams premieres his own gaming site
16-02-2012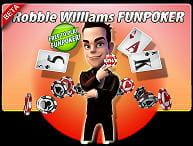 Robbie Williams will premiere its own online gaming site. The English pop star is a poker fan and regularly joins the poker tables at the Swindon-based Premiere Club. Williams appears to be a talented poker player, according to sources.
Sensation
Poker seems a popular game among celebrities. Ben Affleck, Matt Damon, Steve Davis, Shannon Elizabeth, Chevy Chase, they all share the same passion for poker. With the opening of Robbie Williams Poker, the 37-year-old star definitely causes a sensation. The new poker site enables players to walk away with different types of
Robbie Williams
-related prizes.
Criticism
Robbie Williams defines the gaming site as a new destination for free
poker
amusement. However, a lot of poker events are not free as participant have to pay an entry fee. Wells Member of Parliament Tessa Munt doesn't appreciate the new poker site. "The new gaming site will obviously attract many Robbie Williams fans, among which teenagers. He should donate his profits to addiction care centers," Munt said.