Poker champion killed his wife during hiking trip
02-05-2013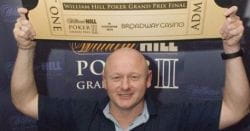 A British poker player has been sentenced to 20 years in prison. Marcus Bebb-Jones reportedly killed his spouse and used her credit card to splash out on gambling and hookers. The incident took place in 1997, after which Bebb-Jones started a professional poker career in the United Kingdom.
Gambling and hookers
The couple operated a hotel based in Grand Junction, Colorado. One day, Marcus and his spouse Sabrina decided to enjoy a hiking tour. However, things went differently as he murdered his wife. Marcus claimed they had words, after which Sabrina had disappeared. The poker fan used her credit card to gamble in Las Vegas, while also enjoying the company of hookers.
Skeletal remains
The British resident left a note after shooting himself in the cheek. Surprisingly enough he survived the shot wound, whereupon he travelled to the UK. Marcus became a successful poker player, cashing a whopping
$139,344 in one poker tournament
. The
murder
came to light in 2004 after a farmer in Colorado found the skeletal remains of the murdered woman. In 2009, British authorities detained Marcus and the crime has now been brought to justice.