Melton poker fans lost $54 million in 2011
28-02-2012
New figures demonstrate that Melton-based poker players wager around $149,000 a day on poker machines. Losses on the area's
poker
machines have increased approximately 20% from July through December 2011 in comparison to July to December 2010.
Problem gamblers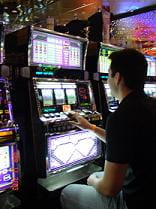 Melton Shire mayor Justin Mammarella noted that the surged losses are partly the result of the increasing population. However, he expressed worries over the problem gamblers. "It's our duty to offer those people support," Mammarella commented.
Disadvantaged people more vulnerable
"Problem gamblers produce approximately 40% of the losses on poker machines, according to the Productivity Commission. In addition, estimations show that 20% of pokie losses come from people with a well-developed problem. It's likely that disadvantaged people are more vulnerable to gambling addictions than those in more wealthy areas," according to Charles Livingstone, deputy head of the Department of Health Social Science at Monash University.
Gambling extremely popular
More than 80% of Australian adolescents gamble, with poker machines being the most popular gambling form. Taxes on gambling activities are important for Australian governments, making up more than 9% of revenues. However,
Australians
have spent 11.7% less on gambling last year, according to recent figures by the Roy Morgan Gambling Monitor.