Cyprus police raid elderly poker party
02-03-2012
A group of elderly women from Cyprus face gambling charges following a police raid in November 2009. They were enjoying their weekly poker party when police officials raided the Limassol-based house. Most of the women are between 70 and 80, with the oldest one being 98 years old.
Harmless gambling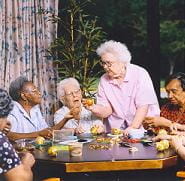 The Cyprus women used to gather every week to enjoy an afternoon of poker and bridge. They were shocked when the police raided the home. "They placed only small bets to add some excitement to their poker-bridge party. It's rather childish to engage in such harmless gambling events. Police should focus on real criminals," according to one of the relatives of the charged women.
Consternation
Several women tried to escape as they were scared when the
police
entered the home. There were also women who didn't understand the situation and continued playing, while others were laughing. Local media report that two of the grannies have since passed away, while two other women are in a skilled nursing unit (SNU).
Gambling on Cyprus
Gambling fans can enjoy
sports betting
, casinos and online lotteries on the island country of Cyprus. The majority of the gambling parlors and sports betting venues are located in the north of the island. The Cyprus government has tried to tighten control over online gambling, but without any result.