Ben Affleck's online poker losses overblown
13-05-2013
Poker fans definitely remember the online poker scam in which hundreds of players were conned. Actor-filmmaker Ben Affleck allegedly lost almost half a million dollars, according to media reports. The 40-year-old Affleck was one of the victims in the huge poker scandal.
Online poker scam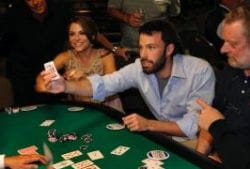 The fraudulent activities at Ultimate Bet took place between January 2005 and December 2007. Staff members of Excapsa Software, the previous owner of Ultimate Bet, allegedly had prepared the scam. Tokwiro Enterprises ENRG acquired the
online poker
site in October 2006. Illegal software enabled the offenders to view other players' cards.
Poker champ
Affleck was among the online poker players who lost money thanks to the scam. Ultimate Bet refunded most of the lost money. The successful actor loves to play poker and has frequently joined local poker tournaments. Affleck walked away with
$356,000 in cash
after winning the California State Poker Championship back in 2004.