All-time record swimmer wins $100,000 in a game of poker
04-09-2012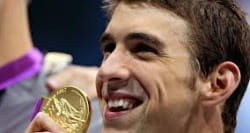 This is according to yesterday's newspaper headlines. Winning $100,000 in one game of poker – "Michael Phelps, record swimmer and medal winner did it at the poker table," the tabloids claimed. But Phelps tweeted that although it would be great had he won that amount, unfortunately, he hadn't.
From Vegas to Atlantic City
Phelps has won 22 medals, six of which were won at this summer's London 2012 Olympics. Obviously he hasn't run out of luck yet. He was supposedly visiting well-known casino Caesars Palace in Las Vegas, where he sat down and played a game of poker. He allegedly won $100,000.
But while it appeared he was in Sin City, it turned out that he attended a poker tournament in Atlantic City. Phelps went home with a nice win, but had not won the poker pot.
Loves to play the game of poker
What's striking however is that the swimmer is very often spotted at casinos and tournaments playing poker. There are rumours going around that Phelps has a serious gambling addiction. This has been denied by his close circle of friends and family. Indeed, the American swimmer is a big fan of this popular casino game, and loves to play poker in his spare time.