4 illegal pokies found at second-hand shop
02-05-2012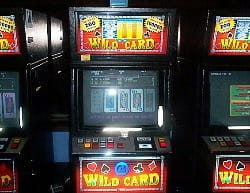 A duo has been charged with having illegal poker machines in a Matthews-based second-hand shop. Matthews police seized four underground pokies, which were installed inside the consignment store. They also confiscated a small amount of money.
Illegal gambling charges
Police officials raided the store after Janet Jean Malone, who owns the second-hand shop, was very cooperative. The 39-year-old shop owner faces charges related to running illegal
poker
machines. Additionally, Jeffrey Edgar (43) faces charges for installing unlawful gambling machines at the consignment store.
Charity card rooms
Video gaming machines are illegal in North Carolina, while sweepstakes machines are allowed. In the meantime, an amendment to the gambling bill could allow gambling venues in the state of Ohio to operate charity card rooms. At present, Cuyahoga County is the only county in Ohio that offers a charity poker room. The amendment added to the gambling bill would legalize
Las Vegas
-style card games in the state of Ohio.