Virgin Bingo launches bar quiz
05-04-2011
Virgin Bingo invites all
bingo
aficionados to join its bar quiz that takes place every Sunday night. With this new promotion, Virgin Bingo acknowledges the popularity of the classic pub quiz, which is played in many UK-based bars. Britons love to play a quiz in their favorite pubs and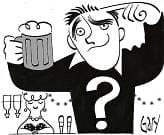 benefit from free drinks and cash money.
Bar quiz
The popular online bingo site has integrated the classic bar quiz in its chat games. This has resulted in the Sunday Pub Quiz night. The promotion is packed with many cash prizes. Competitors only have to buy two tickets in the room where the promotion takes place. The traditional pub quiz is scheduled for Sunday night at 6:00 PM.
Virgin Bingo
In addition, Virgin Bingo hosts free cash bingo games every day between 9:00 and 12:00 PM. If all this wasn't enough, bingo players take advantage of free bingo between 4:00 and 7:00 PM. Visit the Virgin Bingo
site
to check all free bingo sessions.