Tasty Bingo hosts special Ukash games
15-03-2011
Tasty Bingo is set to launch a series of exclusive games that are packed with Ukash coupons. The initial Ukash game is scheduled for March 18 at 8:00 PM (UK time) with a total of €174 in Ukash coupons. Tasty Bingo rewards one-line wins with a €35 coupon, while two-line wins award a €47 voucher. In addition, full house winners take home a €93 voucher.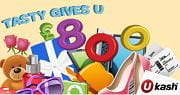 Payment method
Ukash is a popular online payment option among Britons. This
payment method
enables online deposits and withdrawals without submitting private financial data.
Tasty Bingo
The online bingo site has scheduled another Ukash game for March 19 at 8:00 PM (UK time). This second game features Ukash vouchers of €47, €93 and €151.
Ukash game
Tasty Bingo
has announced that the third Ukash game will take place on Sunday, March 20 at the same time. This final game is packed with Ukash coupons worth €93, €139 and €232.