Sky Bingo launches Music Moments promotion
10-05-2011
Sky Bingo
has launched the exclusive Music Moments promotion. The winners receives 4 VIP seats to enjoy a Take That concert. The Music Moments promotion kicks off on May 22 and is packed with 14 special daily offers. Sky Bingo will launch the promotion through an exclusive web page. The promotion challenges competitors to collect extra loyalty points.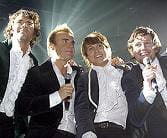 VIP Take That tickets
The Sky Bingo website offers links to the exclusive Music Moments website. Those who enter at least five coded promotions can enter the Party Room on May 24. The Party Room enables competitors to take home VIP Take That tickets.
Music Moments promotion
Several daily offers invite participants to submit a bonus code. Players need to submit five or more bonus codes in order to compete for the concert tickets. Sky Bingo announced that the tickets can be won on May 24 from 08:00 PM to 10:00 PM. In addition, Sky Bingo has scheduled an exclusive bingo game that starts the same day at 09:00 PM. The full house winner receives 4
VIP
tickets to enjoy the Take That concert.