Rewarding Rookie Races promotion at Europa Casino
01-09-2011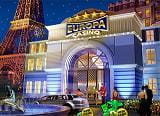 Online gambling domain Europa Casino has introduced a rewarding leader board promotion. The Rookie Races campaign offers competitors four weekly tournaments, which will take place in September. Participants have a chance to take home a chunk of €4,000 in
prize money
.
€4,000 in prize money
The first weekly tournament kicks off on September 1th, with the best first-time participant scooping a cash prize worth €300. In addition, the number two will take home €175 in cash, while the player who finishes third will bank €125. Prize money distribution is based upon the ranking at the end of every weekly tournament.
First-time depositors
Europa Casino
revealed that new players need to lay down at least €75 in order to join the tournaments. The player who finishes fourth at the end of every tournament will walk away with €100, while those who end up in fifth through tenth receive a windfall of €50.