Relaunch site: CasinoClub
16-12-2010
The website has an improved user-friendly interface and several new features, such as the latest industry and casino news, winning strategies,
new games
and tips. The website was relaunched on the 29th of October and is available in three languages; English, German and French. CasinoClub's download software, as well as their instant play software, remains available in the languages the visitors are used to.
User-friendly and new tools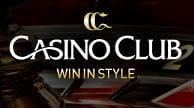 Marc West, a CasinoClub Manager, said that the casino has put a lot of effort in making the site even more user-friendly, while adding several great new tools. All the new information on the site is shown in once, so the visitor has easy and instant access to it. The design of the new site is still classic and stylish with a modern twist, and according to Marc West, is the new design almost as exciting as playing the games in this online casino.
CasinoClub and social media sites
As social media sites are becoming more and more widespread across the globe, the importance of these sites to online casinos is becoming bigger and bigger. This is why CasinoClub has added 'share' buttons on every page, so the visitors and players of CasinoClub can easily share the latest news of the Casino on their own social media sites.
Generous new welcome bonus
With the relaunch of their new site, CasinoClub decided to give their new players something extra. New players will receive a 100% welcome bonus up to €250, and with this, CasinoClub is handing out one of the most generous welcome bonuses found anywhere in the online gaming industry.