Parkinson's drug leads to online gambling addiction
06-02-2011
GlaxoSmithKline has been taken to court by a Frenchman. Didier Jambart suffers from Parkinson's syndrome. He has become addicted to online gambling and gay porn thanks to the Reqip drug.
Online gambling addict
His legal representatives stated that the drug had a massive impact on Jambart's behavior. He started using the medicine in 2003. Since then he has tried to kill himself three times. In addition, the drug has turned him into an online gambling and gay porn addict.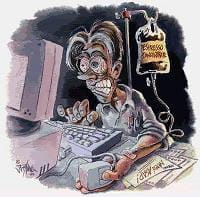 Online casino addiction
Due to his
online casino addiction
, he started stealing while he also lost their savings. Jambart became an obsessive gay porn addict and he started to expose himself on the web. Furthermore, he began disguising himself as a woman. His extravagant behavior even led to molestation.
Addictions
His behavior changed after he stopped taking the medicine in 2005. At that time, he had been reduced in rank in his Defense ministry job. His addictions led to a posttraumatic stress disorder, according to his legal representatives.
Parkinson's drug
The 51-year old demands indemnity of €450.000 from GlaxoSmithKline. Jambart claims that the pharmaceutical firm offers a faulty drug. In addition, his neurologist failed to provide him all necessary details about the medicine.