Online gambler jeopardizes his grandmother's life
11-03-2013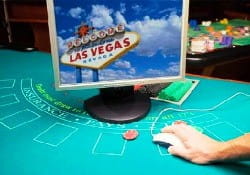 Foong Yew Choo turned to online gambling after he was forced to quit his job due to schizophrenia. His marriage ended in divorce after which his gambling addiction got out of hand. The 44-year-old online gambler
borrowed approximately $80,500 from a number of loan sharks
. His grandmother now pays the bill, both literally and figuratively speaking.
No more money
The 74-year-old grandmother has already repaid more than $60,000. "I have paid them all the money I have. Hopefully they will not lend him any more money," the housewife said. One of the loan sharks challenges Choo's mental condition. "
Schizophrenia
? He is perfectly capable to borrow money to feed his gambling addiction," the loan shark stated.
Suicide
The schizophrenic man talks to himself and smashes his head against the wall, according to his grandmother. Choo even wanted to commit
suicide due to his gambling debts
. The 74-year-old woman has another son who suffers from schizophrenia, while she also takes care of her hubby and two grandchildren.