Mega Million Giveaway promotion at Roxy Palace
16-05-2011
Players at
Roxy Palace
can take advantage of a special promotion in the next four weeks. Roxy Palace has launched the Mega Million Giveaway leader board competition. The best 125 participants receive many loyalty points.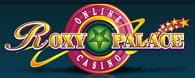 Loyalty points
The Million Giveaway competition ends on June 10 and is packed with 5 million loyalty points. Roxy Palace rewards the 125 players who have placed the most bets on the online casino games with loyalty points. The number one competitor takes home one million loyalty points.
Mega Million Giveaway promotion
The leader board displays the results of the best 500 competitors. Loyalty points can be exchanged as normal during the promotion. Players increase their winning chances by wagering more. Roxy Palace invites online casino fans to open an account in order to join the Mega Million Giveaway
promotion
.