Irish punter behind bars after defrauding his employer
20-09-2010
A 27-year-old problem gambler has been sentenced to 20 months in jail after defrauding his employer. Eamonn McGirr from Ireland stole approximately €400.000 from the firm where he worked for. The Irish punter counterfeited 170 company cheques and used the money to finance his online casino
addiction
.
Sportsbook
McGirr started to gamble on sports events during his college years. His passion for gambling became an addiction when he started playing online blackjack. He managed to execute thousands of online blackjack transactions in one day.
Online casinos
Judge David McFarland believes that online casinos need to contemplate their business activities. He stated that problem gamblers can lose thousands of Euros without any control. McFarland also criticized credit card firms that seem to provide loans rather easily.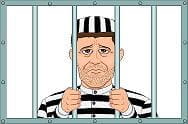 Problem gambler
After McGirr graduated he exceeded the available balance of two bank accounts. In addition, he took out a credit of around €6.000 and obtained five credit cards. He gambled everything away. McGirr decided to regain the lost money by defrauding the tiling company where he was working.
Online gambling addiction
The Irish problem gambler failed to recompense the money. There weren't any signs that he would recompense the stolen funds, according to prosecutors. McGirr damaged his employer's confidence while also potentially jeopardizing the future of his colleagues.