Hustler Casino presents online gambling domain
04-05-2011
Online casino fans have another
gambling
site to choose from. Hustler Casino has introduced an online gambling site. With this new online casino, Hustler Casino adapts to the closing of the leading poker sites Absolute Poker, Poker Stars and Full Tilt Poker.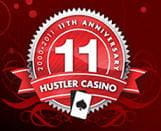 Hustler Casino
Al Underwood, marketing director for Hustler Casino, commented: "We fortuitously launched the online casino when the FBI shut down three prominent poker sites. From a marketing point of view, the launch of the online casino was perfectly timed. The online gaming site provides us new possibilities. Casino fans can gamble at an online casino that offers secure, regulated and familiar entertainment."
Online casino
Flynt Management Group, the company that owns Hustler Casino, stated that players can enjoy the new online casino for free. They don't have to lay down money. The
gaming repertoire
features a point system that rewards prizes.