Hitting It Rich campaign at Intertops Casino
08-11-2011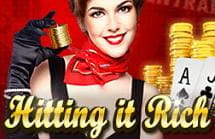 Online gambling site Intertops Casino has unveiled another rewarding promotion. Throughout November, players take advantage of $70,000 in cash and prizes. Participants are challenged to collect credits by playing the casino titles at Intertops Casino.
Winner cashes $1,000
The draw on December 5 will hand out cash prizes to the best 18 competitors. There is a cash prize worth $1,000 for the winner. Intertops Casino will host every Monday random draws that award 150 participants bonuses of $250. In addition, 50 competitors benefit from bonuses worth $150 via Thursday's draws.
Wonderful feeling
"With the upcoming holiday shopping season we can all use some extra money. Treating players to rewarding bonuses and
cash prizes
is always a wonderful feeling," an Intertops Casino spokesperson stated.
Rewarding promotions
The online gambling domain defines its monthly leader board promotions as 'well-loved campaigns'. In addition, the six levels in the Hitting It Rich promotion feature names such as Blackjack Buster, Full House Freak and Slot Smasher.