El Dorado Palace premieres 3 new slots
24-03-2011
Online casino El Dorado Palace has added three new slots to its games inventory. The RetroTech video slot is themed around ice hockey and is networked to a progressive jackpot. It features 5 reels and 25 pay-lines. RetroTech also offers minor and major jackpots that continue to rise until they are hit. This new slot is packed with wild symbols and scatter symbols, alongside 18 free spins.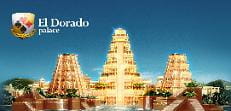 RetroTech – RockoMania
Both RetroTech and RockoMania are loaded with innovative features, amazing bonus games and massive
jackpots
. Players at El Dorado Palace can already enjoy RetroTech and RockoMania. RockoMania is a spectacular video game that comes with scatter symbols, wild symbols and bonus games. Its vibrant and exclusive theme results in a lifelike video slot.
Video slot
Kong
: The 8th Wonder of the World offers two modes: the Jungle mode and Big City mode. Both modes are linked to the same pay-table but feature different visual effects. The wild round is completely different in both modes. The maximum win could multiply the line bet by 87,000.