Donald Trump plans to enter online casino industry
12-11-2011
Donald Trump plans to launch an online casino as soon as the American federal government legalizes online gambling. "I'm convinced that it's a matter of time before the US government legalizes online gambling. It has already become legal in a lot of countries. However, the US tends to be overtaken by events," Trump stated.
Trump's investment team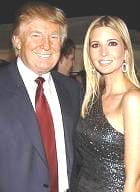 Mega-successful entrepreneur Trump has created an investment team. Marc Lasry, co-founder of the Avenue Capital Group, and Ivanka Trumpo are the other two members of the team. The Avenue Capital Group controls the joint venture, while 10% belongs to Trump Entertainment.
Owner of several casinos
However, Trump is not a newcomer in the casino business. The billionaire has several casinos in Atlantic City, while one gambling parlor in Las Vegas is under construction. It needs to be said that these casinos have been struggling with both economic and legal
problems
.
Trump brand
Trump is convinced that online gambling offers huge potential. "The online casino will be a staggering success thanks to the popularity of the Trump brand," the entrepreneur stated.