Bet Soft Gaming launches 16th slot game
06-04-2011
Paco and the Popping Peppers is the 16th slot game released by Bet Soft Gaming. The creator of 3D slot titles declared that Popping Peppers comes with an heroic main character. This protagonist allures players to join the action, which takes them on a lifelike adventure. Paco and the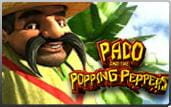 Popping Peppers features a vibrant and colorful cinematic theme.
Paco and the Popping Peppers
Anthony Locke, speaking on behalf of Bet Soft Gaming, commented: "Sixteen spectacular titles reaffirm our position as leading provider of 3D slot games. Paco and the Popping Peppers is an amazing slot game. This new title comes with an immersive visual and audio experience. Paco and the Popping Peppers has an unique 3D theme that allures all online gaming fans."
Bet Soft Gaming
Nicosia-based Bet Soft Gaming strives to offer a top-class online gaming experience. Bet Soft Gaming has a gaming repertoire of more than 100 one-of-a-kind
games
. The gaming inventory is renowned for its innovative visual and audio effects.