Are You The Next Inter Hero? campaign at Inter Casino
28-05-2011
Online casino fans will love the Are You The Next Inter Hero?
promotion
at Inter Casino. This rewarding campaign has been launched to honor the variety of themed games that are packed with a total prize pot of £250,000.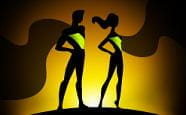 Are You The Next Inter Hero?
Players at Inter Casino can join the Are You The Next Inter Hero? promotion in the next 100 days. Inter Casino revealed that competitors take advantage of cash prizes, alongside two walk-on roles in a Hollywood movie worth £20,000. In addition, participants benefit from credits valued at tens of thousands of pounds.
Inter Casino
The CryptoLogic-powered online casino was launched in 1996. Inter Casino was among the first online gambling domains that launched branded titles like the Incredible Hulk, Spiderman, Batman, the Green Lantern, Braveheart, Forrest Gump and Conan the Barbarian.
Promotion
Inter Casino announced that the new promotion also features monthly campaigns. The first one is themed around Thor and offers £15,000 in cash and jackpots. With this new promotions, Inter Casino seeks to strengthen its position as one of the leading online gambling domains.