32 Red Bingo launches rewarding bingo game
25-10-2011
32 Red Bingo has released the 75-Ball Bingo game. The Microgaming-powered gambling site stated that punters can start playing 75-Ball Bingo from only 5 pence. Subsequently, bingo aficionados can raise their bets in order to leave the bingo room richer.
Increased winning chances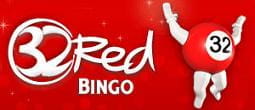 75-Ball Bingo is 12 hours a day available, seven days a week from 17:00 PM. The new game features a card that is packed with 25 squares (5-by-5). 32 Red Bingo revealed that the centre square is marked 'free'. 75-Ball Bingo comes with increased combinations to mark off.
Rewarding bingo game
"We are pleased to deliver 75-Ball Bingo to our customers. This new bingo game is set to become another popular title at 32 Red Bingo. 75-Ball Bingo is a pleasant
game
with an easy game-play. It offers bingo fans amazing chances to take home cash prizes," a 32 Red Bingo spokesperson said.
Buy-one-get-one-free
Players can buy bingo cards online, while they frequently receive a free ticket when buying one. 32 Red Bingo invites all
bingo
fans to try the new bingo game. 75-Ball Bingo is one of the many reasons to start playing at 32 Red Bingo.