Who gets the $1 million jackpot?
06-05-2012
Who will get the $1 million jackpot? That's the question as two women claim a $1 million lottery prize. Sharon Jones discovered a lottery ticket in a garbage can and thought she had won $1 million. The owner of the ticket also claims the jackpot as she discarded the ticket after a lottery terminal revealed it was a losing ticket.
Not a winner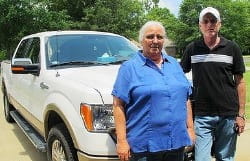 Jones collected the jackpot last summer. Sharon Duncan claims that she purchased the winning ticket at a Beebe-based bodega. She checked the Diamond Dazzler ticket at a lottery machine, which indicated that she hadn't won. Duncan threw the ticket away. The Arkansas Lottery Commission is convinced that all lottery terminals work correctly. "It would be the first time that a machine fails," read a statement from the Lottery Commission.
$490,000 left
Sharon Jones and her husband planned to buy a new house after they claimed the jackpot. They received $680,000 after taxes, from which approximately $490,000 is left. The Joneses donated tens of thousands of dollars to their kids. They also gave $4,500 to a family member whose child has Down syndrome.
No sign
Judge Thomas Hughes concluded that Duncan is entitled to the $1 million
lottery
jackpot. Lawyers for the Joneses will fight the decision in order to keep the money. Jones said that she found a couple of tickets in the garbage can. She added that it was allowed to take those tickets from the trash can as there was no sign.