Third Mega Millions winners claim their share
19-04-2012
One of the three Mega Millions winners has been unmasked, after Merle and Pat Butler claimed their share. The couple from Red Bud, Illinois are one of the three winners of the record jackpot worth $656 million. If the retired couple opt for a lump-sum payout, they will receive approximately $158 million before taxes.
Jackpot winners from Red Bud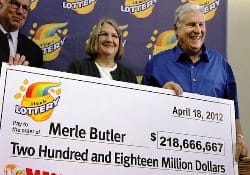 The 65-year-old Merle Butler used to work for an insurance firm, but quit his job in 2004. His spouse, the 62-year-old Pat Butler, retired in 2007. The Butlers purchased the winning ticket at a Red Bud-based corner shop. Merle Butler decided to verify the
lottery
numbers the same night of the drawing that took place on March 30.
Hard to keep a secret
Red Bud is a farming community in Randolph County, Illinois where everybody knows each other. However, the Butlers managed to keep the historic win a secret for almost three weeks. "You just can't hide anything in this small community, as 75 percent of all residents are related. It's remarkable that Merle and Pat managed to hide their secret for so long," according to one of the Red Bud residents. Merle and Pat Butler revealed their secret to five relatives and friends.
Special t-shirts
The nine workers at the local convenience store, which sold the winning ticket, split a bonus worth $50,000. The
Red
Bud-based filling station has sold twice as many lottery tickets than they did before. Many out-of-town visitors also buy a t-shirt that says: "Yes, I'm from Red Bud. No, I'm not the winner."