Stagecoach drivers scoop £38 million cash prize
19-03-2012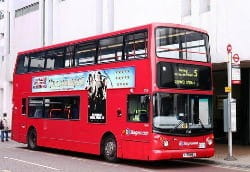 The Euro Millions lottery has produced a dozen of new millionaires. Twelve bus drivers have scooped a
£38 million
jackpot in the Euro Millions lottery. One of the lucky Stagecoach employees, Charles Connor, already announced to quit his job. Connor left school at 16 and now plans to return to school. In addition, he will use the jackpot cash to hit the golf courses and to treat his family to a new car.
Dream car
John Noakes, another fortunate Stagecoach driver, recently took pictures of an Aston Martin. The
jackpot
money now enables him to buy his dream car. Noakes stated: "I will need some time to recover from the shock."
Worries
Stephen Derrick and his spouse Fernanda couldn't believe it. After it sank in, they became worried as they feared the massive impact of the jackpot money. However, Stephen and Fernanda already decided to continue their normal lives.
Record jackpot worth £161 million
The Euro Millions lottery made its debut back in 2004, with only three
European
countries participating. Belgium, Ireland, Luxembourg, Portugal, Switzerland and Austria joined the Euro Millions lottery 8 months later. A British lottery player hit a record jackpot in July last year, after cashing £161 million. The fortunate player became the 430th richest UK resident.