Slots player cashes almost €125,000 at King Solomons
22-07-2011
King Solomons Casino has rewarded jackpots worth almost €125,000 to a Greek slots player. A competitor using the pseudonym 'PP' took advantage of his daily cash-back windfall to spin the reels of the
Great Blue
slot. The Greek winner is an Emerald VIP member of King Solomons' Loyalty Club.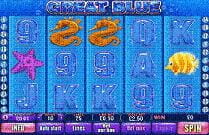 Bonus games and free spins
'PP' decided to have a go on Great Blue and quickly gained access to his initial bonus game where he cashed €4,888. He then collected €21,252 and €23,600 thanks to another two bonus games alongside free spins, increasing his total to roughly €50,000.
Great Blue video slot
"Great Blue has always been a big favorite among slot fans. It's becoming even more popular as an increasing number of participants have managed to take home staggering cash prizes," a King Solomons spokesperson noted.
Winning odyssey
If all this wasn't enough, the Greek
slots
fan decided to continue his winning odyssey. 'PP' benefited from additional free spins, in which eight wilds rewarded him €95,256. His winning streak ended that day with a total of nearly €125,000.