Sky Vegas celebrates instant multi-millionaire
14-06-2011
The Millionaires Club game has produced an instant multi-millionaire at Sky Vegas. The
online gambling
domain revealed that a civil servant from Newcastle cashed £2.6 million. After wagering only 90 pence on the slot game, the 37-year old punter scooped the massive jackpot. The 'Geordie' used various progressive bonus games to bag the windfall.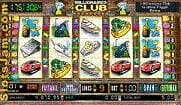 Sky Vegas
John Parsonage, speaking on behalf of Sky Vegas, stated: "We are proud to present the second multi-millionaire in the history of Sky Vegas. Millionaires Club is one of the most popular games at Sky Vegas. We have scheduled the launch of another rewarding slot game and we seek to present more millionaires in the next years."
Millionaires Club
Crypto Logic revealed that Millionaires Club has produced four millionaires so far. One fortunate player hit a record jackpot worth £8 million four years ago. The Millionaires Club slot was launched in 2005. Its massive jackpots and exciting game-play have resulted in a popular
slot
game.