Santa Ysabel Casino spills out $1 million jackpot!
01-05-2011
A Ramona resident has scooped $1 million in cash at Santa Ysabel Casino. The
casino
stated that the 42-year old man won the jackpot on a progressive penny slot machine. The winner placed $2.50 bets on the one-armed bandit. Five gold series symbols rewarded him the $1 million jackpot.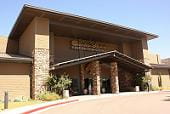 Progressive penny slot machine
Tammie McGill from Warner Springs saw how the Ramona-based man won the jackpot. McGill stated: "I had been playing the same slot machines and I didn't particularly like them at first. After experiencing the $1 million jackpot win I need to change my stance on those progressive penny slot machines."
Jackpot winner
The winner wanted to remain anonymously. Santa Ysabel Casino revealed that the man plans to use the money to help his family. 10News reported that the winner is jobless and struggles to pay his mortgage. The
jackpot
money makes his life a bit easier.