Renton woman banks £8,000 in football competition
09-07-2011
The Sons Lotto has rewarded another jackpot winner. Margaret McKenzie (81) hit the lotto jackpot worth £8,000. However, it was her second bumper win as she took home a comparable jackpot on the Rangers pools.
Renton woman
McKenzie plans to treat herself to a trip to Australia, where her sister lives. "I have been playing the Sons Lotto for several years. I never thought that I would win the jackpot. In the past I had won cash prizes worth £10 but nothing comparable with this jackpot.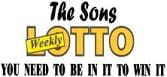 This massive cash prize enables me to visit my sister in Australia," McKenzie commented.
Sons Lotto
The 81-year old used to work with Hiram Walker and Allied Distillers. She was shocked by the impact of the news. McKenzie used the numbers 2, 8, 13 and 25. She purchased the lucky ticket at a takeaway in Renton. "The shop where I buy two tickets every week is near my house."
Jackpot
She continued by saying: "I was amazed at how fast everybody seemed to know that I had won the jackpot. I received a phone call about the
jackpot
and before I realized it everybody already knew. My son called me to tell me that it had been on Facebook."