Purse snatcher gets jackpot bonus worth $30,000
02-09-2011
A woman from Plantation (Florida) has experienced both luck and misfortune in one day. First she bagged
$30,000
at the Hard Rock Casino. That same day, a thief took her purse that contained the jackpot cash.
Helpful purse snatcher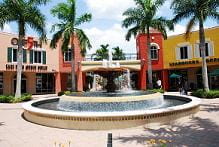 Jana Rajchl and her friend decided to stop at the Miromar Outlet mall in Estero (Florida), after they left the casino. They saw that her car had a flat tire, when they arrived at the parking lot. Rajchl declared that she called the American Automobile Association. A man at the parking lot repeatedly offered help, while she was waiting for the roadside assistance to arrive.
Tire intentionally cut
Rajchl went to a
restroom
, after the roadside assistance had arrived. Her friend observed how the man stole her purse from the vehicle and got away in a Nissan Altima. Police officers determined that the car door was damaged. They also noticed that the tire was deliberately cut.
Coincidence
The Plantation resident stated that she only stopped at the Miromar Outlet on her way home. "I have no idea if somebody was following me. It seems unlikely that the thief followed me from the moment I left the casino. I would say it was coincidence," Rajchl commented. Lee County police officials are investigating the incident.