Philippine one armed bandit omits digit
24-07-2011
A gambler at a Cebu City-based casino hit the day's jackpot on June 22th, 2010. Shandrina Aliser claims that the
slot
machine omitted a digit. The Philippine slots player scooped the daily jackpot, which varied from $11,700 to $14,000. However, the slot machine spilled out a $1,372 jackpot.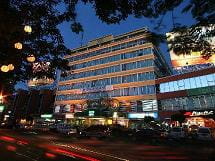 One armed bandit omits digit
Aliser explained: "The slot's display showed the message 'jackpot' in combination with the amount of $13, 72,00. The open space indicates that the machine omitted one digit. In view of the fact that the minimum jackpot that day valued $11,700, it's obvious that the jackpot lacked one digit. The slot machine should have paid out at least $13,000."
Fair game-play
"All slot machines feature a random number generator, which guarantees fair game-play," according to Noel Garcia, speaking on behalf of the Rajah Park Hotel. Nevertheless, the Philippine jackpot winner has sued the Philippine Amusement and Gaming Corporation (PAGCOR).
Jackpot of the day
"The jackpot of the day shows the amount that a slots player can take home. However, it doesn't indicate what a slot-machine player will cash if he wins one jackpot. If she had continued her winning streak, she could have cashed the top prize of $14,000. I once managed to bank more than $9,000, but that jackpot money is all gone now," another casino player at the Rajah Park Hotel commented.